A club is only as good as its leader
We want you to feel confident about our services so we pick and prepare our tutors with care. Read on to learn about who we choose and the level of training you can expect.
All Zylo tutors come with...
An enhanced DBS check
All our tutors come with enhaced DBS checks and are registered to the update service


Level 2 Emergency First Aid at Work training
Every Zylo tutor is first aid trained before beginning their assignment with us


An HSE compliant fully-stocked and monitored first aid kit
Our tutors always have a first aid kit with them and we regularly check stock levels and expiry dates


Child Protection training
Zylo tutors always have a valid safeguarding certificate


2 references
We've contacted their referrees so you don't have to... although you still can if you like!


Channel Awareness training
Zylo tutors all undergo Channel Awareness anti-radicalisation training


A completed disqualification declaration form
We asked, they answered!

A club is only as good as its leader so we're very picky! Our tutors are passionate about art and great with kids. They are regularly briefed on safeguarding and health & safety and attend frequent meetings where other important club issues are discussed. They all deliver sessions using our tried and tested formula and employ consistent, approved class management techniques. They're also a lot of fun and the kids love them! (A pre-requisite of our vetting process).
Zylo tutors are all experienced performers and hold various drama, music or video qualifications, accolades and achievements. They are carefully selected and each have a certain something that makes them Zylo quality. Serious about our service and aware that our staff are role models, we only send in tutors who meet our hefty requirements and have the right tools for the job. Trust us, these are the people you want running your Zylo services!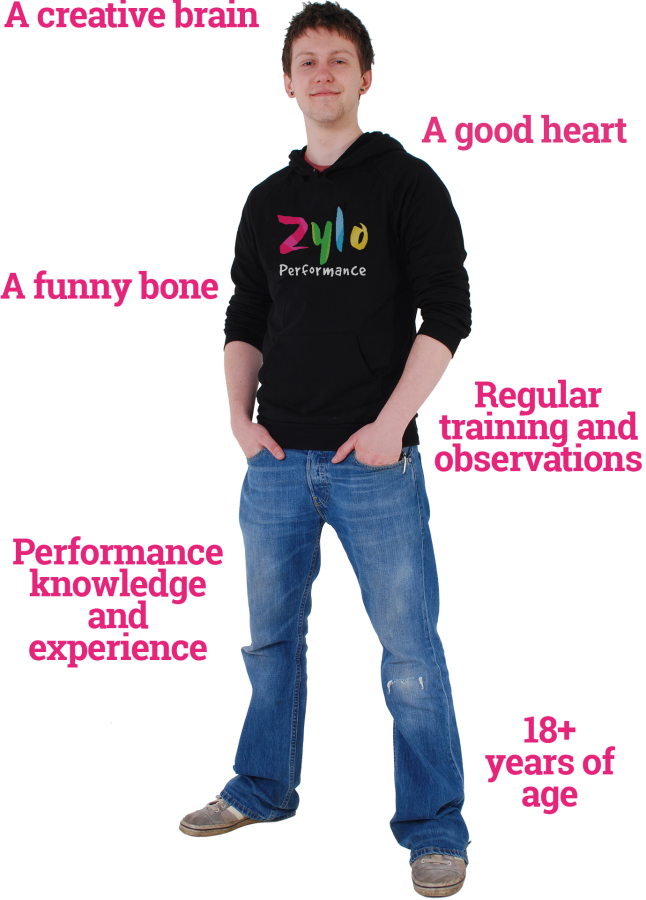 What do Zylo tutors believe in?
At Zylo we all believe in the incredible, transformative power of drama, music and creativity. We believe that every child should be afforded opportunities to create and express themselves through art. We believe that drama and music education have a wonderfully positive developmental impact on children academically, personally and spiritually. We believe that one day our clubs will be available to children all around the country and, finally, we believe that the service we provide, and the manner in which we provide it, really makes a difference.
Why Zylo?
We've been running primary school drama clubs since 2010 and have worked with over 1500 children across more than 35 clubs. Our fun, balanced approach takes into account our position as an introduction or 'top-up' option as well as the nature of an after-school club setting, allowing us to create an experience that caters to all children, not only those with an inherent interest in performance. Our healthy mix of drama-school inspired workshop sessions and script-based performance terms ensures that we offer a truly valuable, yet wholly fun experience!
Want to become a Zylo tutor?
Do you love music, theatre, drama or filmmaking? Do you have the skills required to educate, inspire, engage and entertain children? Are you funny, confident, organised and self-motivated? Then we'd love to hear from you!
Tutoring at Zylo Performance clubs is a highly rewarding and fun experience. For more information on becoming part of the Zylo Performance tutoring team visit our contact page and either give us a call or send us a message.